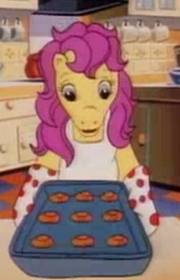 Bon Bon
(voiced by
Chiara Zanni
) is a pony who bakes various treats for her friends such as cookies and is seen constantly eating sometimes. She also has a diary which she classifies as a private diary because she doesn't want no one to view her diary. She comes from a large family, with an older sister named Misty, four younger siblings Amber, Twink, Rusty and also a unnamed baby brother.
Ad blocker interference detected!
Wikia is a free-to-use site that makes money from advertising. We have a modified experience for viewers using ad blockers

Wikia is not accessible if you've made further modifications. Remove the custom ad blocker rule(s) and the page will load as expected.