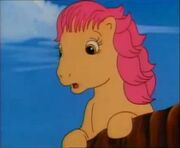 Patch
(voiced by
Venus Terzo
on episodes 1 to 16, then
Brigitta Dau
on episodes 17 to 26) is a pony who acts adventurous and tomboyish constantly looking for something to do unlike the others and is a member of a soccer team. She is one of the only few ponies that can see magical phenomena such as Squire's ghost and the Glow 'n' Show ponies. She wants to join the circus when she grows up. She is the only pony that had her voice changed.
Ad blocker interference detected!
Wikia is a free-to-use site that makes money from advertising. We have a modified experience for viewers using ad blockers

Wikia is not accessible if you've made further modifications. Remove the custom ad blocker rule(s) and the page will load as expected.